Your website is important to you and, naturally, you want it to succeed. When you're operating a website, you need it to reach its full potential by achieving a goal—whether that be monetary, informational, or cathartic. Regardless of your site's focus, there is no better way to measure its reach and growth than by monitoring your actual visitors. And the more you know about your visitors, the better.
This is where Google Analytics comes in. Google Analytics is a website statistics service that stores and tracks traffic and visitation data. These data are expansive and include page-view durations, total number of visits, load times, source pages and subsequent pages (enabling you to track your visitors' paths), and, perhaps most importantly, actions that a visitor takes—known as "conversions" and defined by you. All of this information is highly accessible, customizable, and easy to use.
How to Get Started
To start using Google Analytics, you simply need to sign up for an account and install your tracking code. To sign up, just your Google account (or create a new one) and sign up for Google Analytics.
Google will take you through the process of setting up and provide you with the custom-built tracking code for your website. This involves is adding a brief "snippet" of Javascript-based HTML to the webpages that you want to track. You'll have website visitation metrics at your fingertips within 24 hours.
Tracking the Right Metrics
The data that Google Analytics tracks can be extremely valuable for marketing purposes. They shed light on the efficacy of your marketing campaigns and social networking initiatives and your website's performance in search engine results. Without these data, your Internet marketing strategy is reduced to guesses. Therefore, with Google Analytics, the success of your Internet marketing campaigns becomes a science. You have hard data to compare over periods of time, which allows you to tweak your campaigns to optimize their performance.
To gain these benefits, however, it is necessary to track the right metrics. As a small business owner, there are a few metrics that will be invaluable to your success online.
Demographics
Checking demographics data will give you new insights into who makes up your audience. You'll also see interests data, which Google Analytics gathers according to users' purchasing and travel activity online. Bear in mind that these statistics may only represent a portion of users. However, the information is still hugely useful if you are unsure who exactly is interacting with your website.
To display the data, you'll need to enable Advertising Reporting Features and Demographics and Interests reports.
Once you've done this, you'll see a breakdown of audience by age, gender, affinity categories, in-market segments, and other categories. You'll also see a demographics overview and an interests overview report.
As well as viewing the standard demographics reports, you can create your own reports and create segments based on dimensions. This is useful for analyzing data further and for forming remarketing audiences.
Traffic Sources
Instead of just looking at how much traffic your website receives, you need to consider where the traffic is coming from. When you have a limited budget, this is critical for directing your marketing efforts to the right places. For example, if you find that the majority of your traffic is coming from a single source, you may like to experiment with ways to increase traffic from other sources.
To find the sources of your traffic, head to "Acquisition" and then "Overview."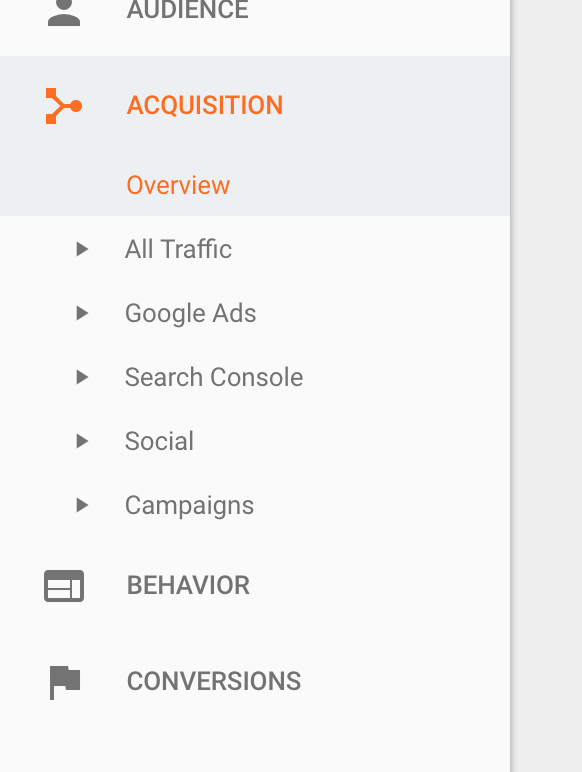 You can also find out what external sites are sending you traffic by clicking on "All Traffic" followed by "Referrals."
Conversions
Statistics about who your audience is and where traffic is coming from are all useful, but they mean little if you are unclear as to how many users are taking action on your site. By measuring conversions, you can see if your site is fulfilling its purpose. You should check if users convert to become customers but also if they make other types of conversions, such as downloading premium content or subscribing to a newsletter.
To measure such conversions, you need to set up goals. In your standard reports, click "Admin" in the top right corner and choose "Goals." Select the custom metrics you want to measure goals that matter to you. This could be signups from particular URLs, conversions from ads, or even visit durations.
SEO Reports
If you are using SEO to gain visibility for your website, you need to measure the effectiveness of your strategy. Google Analytics offers no single SEO report; instead, there are a couple different ways to measure performance.
One option is the Queries report. This provides you with a list of queries that led to impressions for your website in organic search. By finding out how users are searching and considering how relevant these queries are to your pages, you can better optimize content.
Another way to assess SEO is with the Landing Pages report. This shows you which of your pages are receiving the most traffic. It is important to note that there are two different landing page reports in Google Analytics. The one you'll find under "Behavior" is for all traffic sources, whereas the one under "Acquisitions" is just for search results: this is the one that matters for SEO.
Google Analytics presents all the above data in intuitive charts and graphics. There's even real-time reporting to measure your site's activity as actions take place.
Google Analytics been free since it first launched in 2005 and has seen continuous upgrades and additions over the years. Take advantage of one of the web's most powerful tools to optimize your website, whatever your goals.
This article was originally published in May 2013 and has been updated to reflect current information in August 2018.