Boostability
2600 Ashton Blvd Suite 300 Lehi, UT 84043
Contact Information
For e-commerce brands, search engine optimization (SEO) is no less than a blessing. By implementing it, such companies attract new customers and also boost sales.
Here at Boostability, we're your friends that help you with tasks to improve your website's rank. These tasks include keyword and website optimization, business profile
So many businesses always focus on getting new customers. But did you know, you can earn far more by retaining the ones you already have?
Why is it important to choose the right keywords? For a new business creating content, finding and implementing the right keywords can come off as
Conversion rate optimization refers to the process of analyzing user behavior on your website and finding ways to improve the user experience to get users
As the world-wide leaders in white label SEO for small businesses, we get asked a lot of questions. One of the most common is, "I
As we've learned from the COVID-19 pandemic, having an online digital presence with a strong SEO strategy in place is crucial now more than ever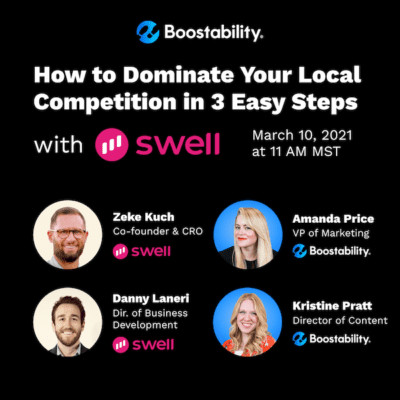 For local businesses, it's important to stay on top of your local search presence, stay ahead of the competition, and find ways to modernize your
Did you know that there's approximately 1.2 billion websites out there on the internet? Yes, that's billion with a B. And I'm not calling these
Email outreach is one of the best ways to build links and grow your online presence. This strategy works across all niches, but there are